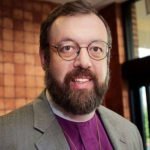 The Most Rev. Peter D. Robinson, B.D. (Grad.), currently serves as ordinary of the Missionary District of the East and as vicar of Good Shepherd Anglican Church in Waynesboro, Virginia.
Bishop Robinson was born in Scunthorpe, Lincolnshire, England. He graduated in 1991 from The College of Ripon and York St. John with a B.A. (Hons) degree and attended Holyrood Seminary in Liberty, New York 1993–94. He was ordained a deacon on July 3, 1994 and a priest on December 10, 1995. In 2009, he was consecrated bishop, and in 2012, he was elected presiding bishop of the United Episcopal Church.
Bishop Robinson was awarded the Doctor of Divinity (D.D., honoris causa) by Johann Heinrich Pestalozzi Christian University.
In his spare time Bishop Robinson enjoys reading detective novels and listening to classical music. He also plays the Scottish small pipes and has a deep interest in Scandinavian Lutheranism. His other interests include Scottish and Irish folk music, the history of the Scottish Episcopal Church, Manx history and culture, as well as model railroading.